Hello friends!  Happy first Sunday in advent.  Kristen here and I'd like to introduce our friend Marcie Gates who will be bringing us our first ever Advent Series.  Marcie has served as a partner in ministry for the last 7 years (full bio at the end of this post).  I enjoyed reading this first post on waiting and I know you will too!
ad•vent / noun: the arrival of a notable person, thing or event As we walk through this season of advent in the church calendar it is interesting to watch life for the glimpses of this idea of waiting.  They happen all around me, and I delight in the times where I've slowed down enough, and pay attention enough to see them.  One happened this morning in church. My kids are never content to sit side by side, quietly in the pew at church.  Our five bodies sprawl across the entire length of the cushioned seat, limbs never ceasing in activity.  They watch, as their dad breaks the bread and pours the cup.  They look to me with wide eyes, "Is it time yet?" "The gifts of God, for His people."  And they know.  It is time.  We file down the aisle, waiting our turn.  As we approach the front, small feet dance anxiously for their turn.  Their small fists cling to the plump, round grapes, and we head back to fling ourselves onto the merciful pew. Some days I choose the pew near the back.  Not only does it provide a quick escape when #3 starts impersonating Rocky; it also means there is less waiting after we've received the bread and the cup (or grapes for the littlest among us).  Today, we are seated near the front.  One child is watching patiently as the line continues parading by.  But the boys, oh those sweet boys, make me wish I had some Velcro to attach to their bottoms.  This is the moment, and I almost missed it.  I was ready to silently shout words demanding better behavior.  Then I had to pause. They were waiting.  They were waiting for the words.  "Take and eat."  Their eyes were looking toward their dad.  They were ready for the next step.  The grapes popping in and out of their mouths, yet they knew not to bite quite yet.  Their bodies, up and down, on and off the pew, yet their ears were tuned to hear the words of instruction.  They looked at each other, showing off the grapes they each possessed, waiting… Isn't this exactly what we do during advent?  We are waiting.  We know what is coming.  We are antsy to hear the words, "REJOICE, REJOICE.  Emmanuel is here!"  In the midst of our waiting we are eager and we can't sit still.  We busy ourselves with preparations for the day of celebration.  We are in and out, up and down, happy and sad, quiet and loud. I love these words from Psalm 130: 5 "I wait for the LORD, my soul waits, and in his word I put my hope. 6 My soul waits for the Lord more than watchmen wait for the morning, more than watchmen wait for the morning. 7 O Israel, put your hope in the LORD, for with the LORD is unfailing love and with him is full redemption." I picture the watchmen, tired and weary, ready for the first glimpse of the sun's rays on the horizon.  They know it is coming, every day, the sun comes.  My boys, they hold their grapes, they know what is coming.  Every time it comes, "take and eat."  The same is true for us today, this advent season, we know what is coming.  Every time He comes, "Emmanuel, God with us."  We wait with an excited anticipation, one that should make it hard for us to sit still.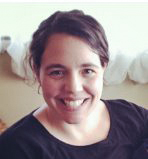 Marcie Gates has served as a partner in ministry for the last 7 years alongside her husband Andrew at Bretton Woods Covenant Church in Lansing, MI.  Their 4 children and a full time job keep life busy, but in the in between moments she enjoys baking and a good cup of coffee with a friend.